Movie Releases 01-19-21
Quick View
Live In Concert: The 24 Karat Gold Tour — Stevie Nicks
Quick View
Ultra Deluxe Digi Pak packaging includes a Blu Ray Disc, Standard Definition DVD and bonus Audio CD Soundtrack!
Mardi Gras 2020
311 was formed in 1990 in the city of Omaha, Nebraska. The group still features it's original lineup 30 years later including drummer Chad Sexton, singer / guitarist Nick Hexum, singer SA Martinez, guitarist Tim Mahoney, and bassist P-Nut.
At 30 years old, 311 has become one of the longest running original lineups in rock music, joining an elite list of other original lineup units like U2 and Radiohead. 311 mix rock, rap, reggae and funk into their own unique hybrid sound - and have developed a reputation as one of the most entertaining & dynamic live bands in the U.S. and has sold over 9 million copies in the U.S. and nine of their singles have reached the Top 10 on Billboard's Alternative Radio Charts.
To honor their 30th Anniversary, the band kicks off their 50 City Tour at one of the world's biggest parties - Mardi Gras in New Orleans at the historic Fillmore captured on film utilizing 14 - 4k multi cameras interspersed with scenes of Mardi Gras. Featured performances include Beautiful Disaster, Good Feeling, All MIxed Up, Down, What The? , Amber, Beyond The Grey Sky and many more hits ! Produced in Stereo and 5.1 Surround.
Performing:
Beautiful Disaster
All Mixed Up
Silver
Come Original
Gap
What The'!
Don't Stay Home
Stainless
Do You Right
Purpose
Good Feeling
Beyond The Gray Sky
Better Space
Applied Science
Don't You Worry
You Wouldn't Believe
Hydroponic
Amber
Sick Tight
Creatures
Down
Quick View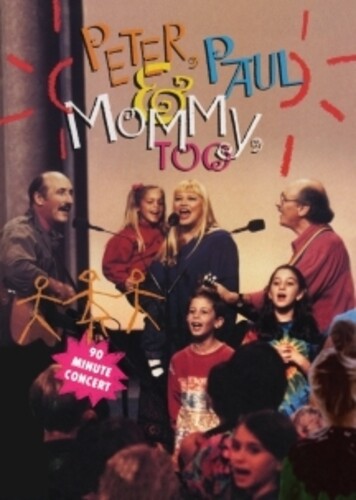 Peter, Paul and Mary continue their folk music magic for children and their, families. This live performance, from their PBS television special features the Trio's delightful and heartfelt renditions of such classics as "The Eddystone Light", "The Fox", "We Shall Overcome", "Garden Song" and "Puff m(The Magic Dragon)". Filmed at the Brooklyn Academy of Music's Majestic Theater.